Overview
Image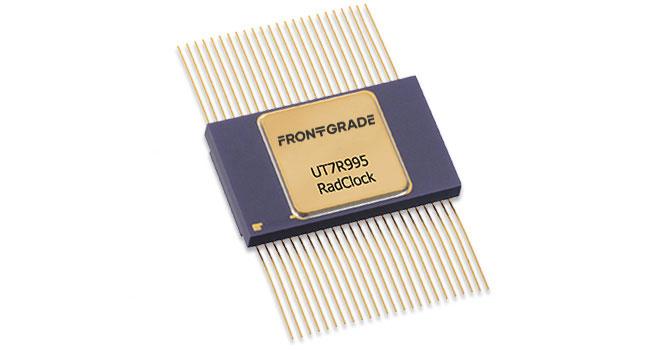 The UT7R995 is a low-voltage, low power, eight output, 6-to-200MHz clock driver.
The device features output phase programmability, which is necessary to optimize the timing of high-performance microprocessor and communication systems. The device also feature split output bank power supplies that enable banks 1 & 2, bank 3, and bank 4 to operate at a different power supply levels. The UT7R995 interfaces to a LVCMOS/LVTTL clock only.
Key Tech Specs
Features
Eight Output Clock Driver
+3.3V Core; +2.5V or +3.3V Clock Output Power Supply
Independent Clock Output Bank Power supplies
6MHz to 200MHz Frequency
<100ps Bank Pair Output-Output Skew
<50px Cycle-Cycle Jitter
50% +/- 2% Maximum Output Duty Cycle @ 100MHz
Eight LVTTL Outputs with Selectable Drive Strength
Selectable Positive or Negative-Edge Synchronization
Selectable Phase-Locked Loop (PLL) Frequency Range and Lock Indicator
Phase Adjustments in 625 to 1300ps Steps Up to +/-7.8ns
(1-6,8,10,12) x Multiply and (1/2,1/4) x Divide Ratios
Compatible with Spread-Spectrum Reference clocks
Power-down Mode
Selectable Reference Input Divider
Applications
High-Performance Microprocessors
Communication Systems
Operational Environment
Temperature Range: -55°C to +125°C
Total Ionizing Dose: <100 krad (Si)
SEL Immune: ≤109 MeV-cm2/mg
Physical
48-Lead Ceramic Flatpack
Power
1mW/MHz
Flight Grade
QML-Q, QML-V
Export Control Classification Number (ECCN)
9A515.e.1
SMD Number
5962-05214
ADDITIONAL SPECIFICATIONS
Support
Do you need help with an existing product?
Our customer and technical support teams are happy to assist.