Overview
With excellent radiation tolerance and enhanced performance, Frontgrade's Motor and Resolver Control products are ideal for moving you through space and other harsh  environments.  
The harsh environment of space presents many challenges for electro-mechanical systems. Meeting stringent environmental demands while performing nominally, or even exceeding expectations, is what Frontgrade does best.
Communication and control, form factor, power, temperature limitations, and radiation hardness are all considerations when dealing with extreme environmental exposure.
At Frontgrade, we engineer our motor and resolver control products with all these requirements in mind. Let our years of product development for long-term and environmentally challenging applications propel your missions even further.
Resolver to Digital Converter
Resolver-to-Digital Converters
The Resolver to Digital Converter is a critical component for a satellite's attitude control systems where controlling movement of solar panels, antenna arrays, and gyroscope reaction wheels is directly connected to mission success.
Implemented with precision analog circuitry and digital logic, Frontgrade's Resolver to Digital Converter (RDC) is a single CMOS Type II tracking monolithic chip.
RDC5028C RadHard Resolver-to-Digital Converter
Used in shaft angle control systems, and designed for harsh environments, the RDC5028C is latch-up free in heavy ion applications, such as geosynchronous orbits, and is estimated to experience SEU induced errors of less than 15 minutes of arc at a rate of 1 per device per 2 years when operating dynamically.
Features:
10, 12, 14, and 16-Bit operation over -55°C to +125°C temperature range

Eliminates Anomaly #1: Instability at 360° and 180° Input Angles in the ACT5028B Version

Enhanced ESD Protection
Radiation Performance

Total Dose 1Mrads(Si)
SEL: Immune up to 100MeV-cm2/m

Power Supply: +5VDC Only

Separate I/O power pin to allow for 3.3V to 5.0V interface compatibility

Programmable by using external resistors and capacitors

Closed Loop Bandwidth
Input Hysteresis in LSBs
Maximum Tracking Rate of Resolver

Low power: +5VDC @ 22mA Typ.
Packaging: 52-lead ceramic quad flatpack
Available to SMD 5962-0423503KXC
Image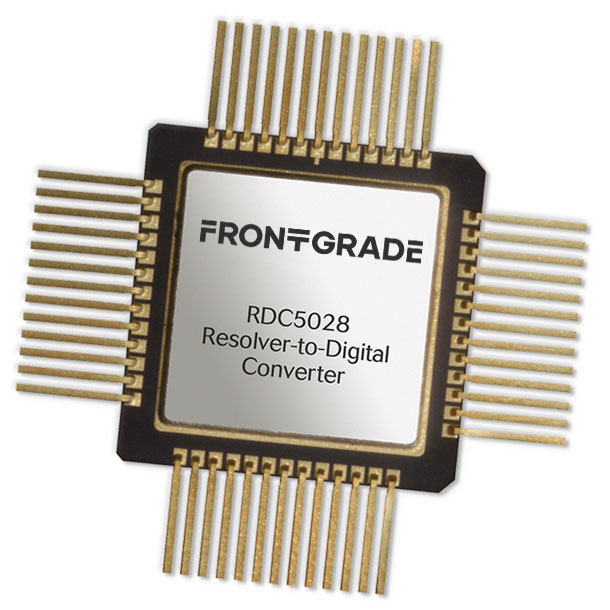 Motor Controllers
Motor Controllers
Frontgrade's Motor Controllers are ideal for all military, space, and commercial avionics applications such as electro-hydrostatic actuators (EHA's) and electro-mechanical actuators (EMA's) for flight surface control, missile fin actuators, thrust vector control, electric brakes, fuel and cooling pumps, environmental conditioning blowers, radar positioning, solar panel positioning, and cryogenic cooler pumps.
ACT5101-1 Brushless DC Motor Driver
The ACT5101-1 offers a high-voltage 3-phase brushless DC Motor Driver that combines a 500VDC, 50A high power output stage along with low power digital input and gate drives stages and is capable of delivering over 25KW to the load.
Features:
500VDC Rating
50Amp DC Rating
Package Size 3.0" x 2.1" x 0.39"
4 Quadrant Control
6 Step Trapezoidal Drive Capability
Military Processing Available
Isolated Upper and Lower Gate Drivers
Temperature Range -55°C TO +125°C
Designed for commercial, industrial, and aerospace applications  
Image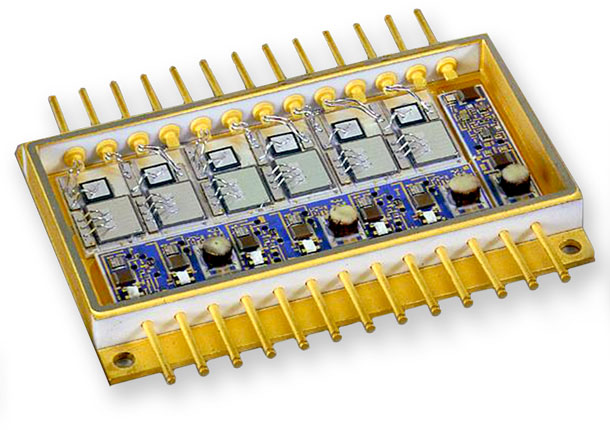 Downloads
IBIS Models
ADEPT Notifications
HYB-2017-PA-0001
Internal Gas Analysis Failures Hybrid Microcircuits DC-DC Converters
Support & Contact
Image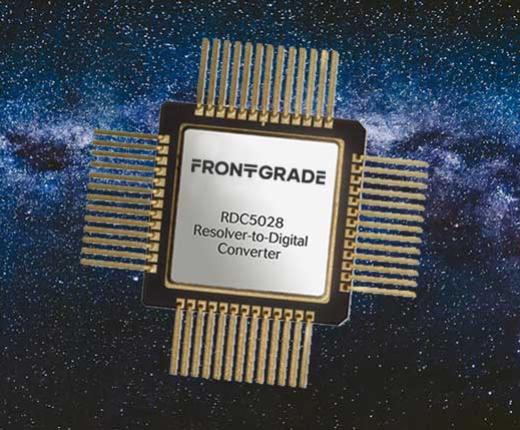 Do you need help with an existing product?
Our customer and technical support teams are happy to assist.
Are you ready to order?
Our team is happy to assist.
Questions?
Let us answer any questions you may have.