Overview
Frontgrade provides state-of-the-art manufacturing capabilities for mission-critical applications.
We offer advanced RF, microwave, millimeter wave and microelectronics packaging; highly automated assembly solutions; build-to-print and build-to-spec ICs; multi-chip modules (MCMs); RF and microwave components; RF and hybrid assemblies; integrated microwave assemblies; modules; PCB/circuit card assembly; SMT; antennas; interconnects; cables and chassis/subsystems.
Frontgrade manufactures high performance RF and electronic solutions for the aerospace and defense industries.
RF and electronic manufacturing capabilities include solder; assembly; thin film substrates and metal fab; automated processes such as pick and place, wire bonding and optical inspection; environmental screening (shock, vibe and temperature); plating and etch; paint; laser seal, and design-for-manufacturing. Some Frontgrade manufacturing facilities also offer MIL-PRF-38534, MIL-PRF-38535, IPC and NASA Certifications, Nadcap certification for plating, DMEA Trusted Accreditation, anechoic chambers, wedge wire bonding, conformal coating, and clean room operations.
Image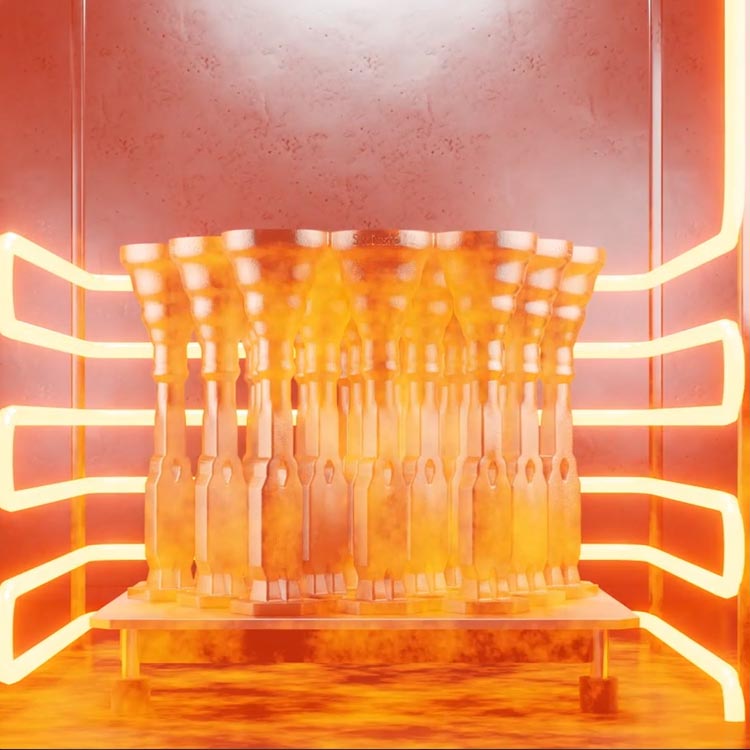 Design for Manufacturing (DFM)
DFM approach and processes drive automation and reduce product cost.
Image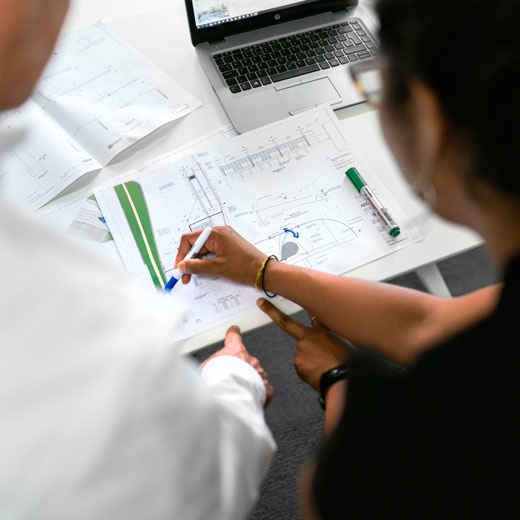 Environmental stress screening (shock, vibe and temperature)
Environmental screening capabilities also include testing bond strength, die shear, air leaks, and electrical performance.
Image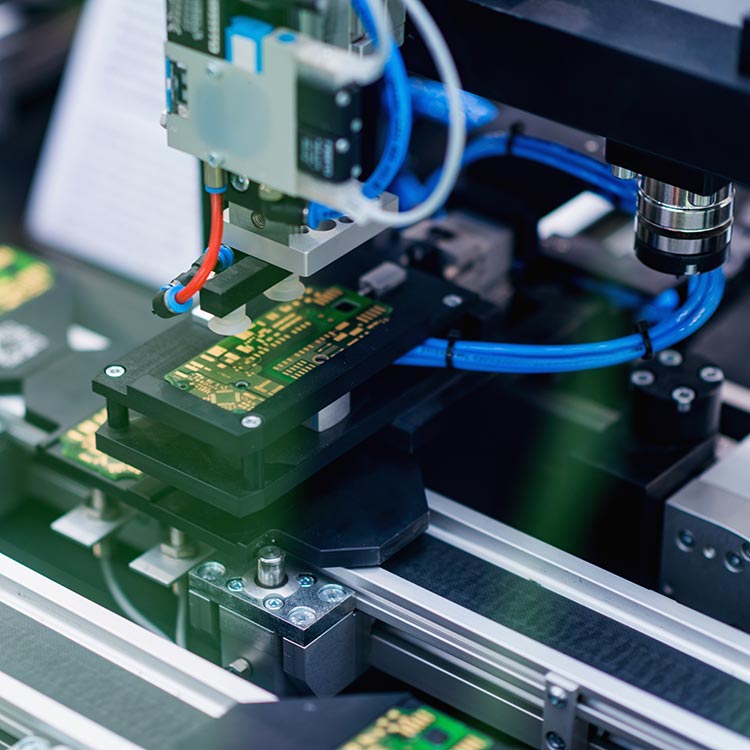 Automated Assembly
Frontgrade reduces product and program costs with a high level of automation in the assembly processes.
Image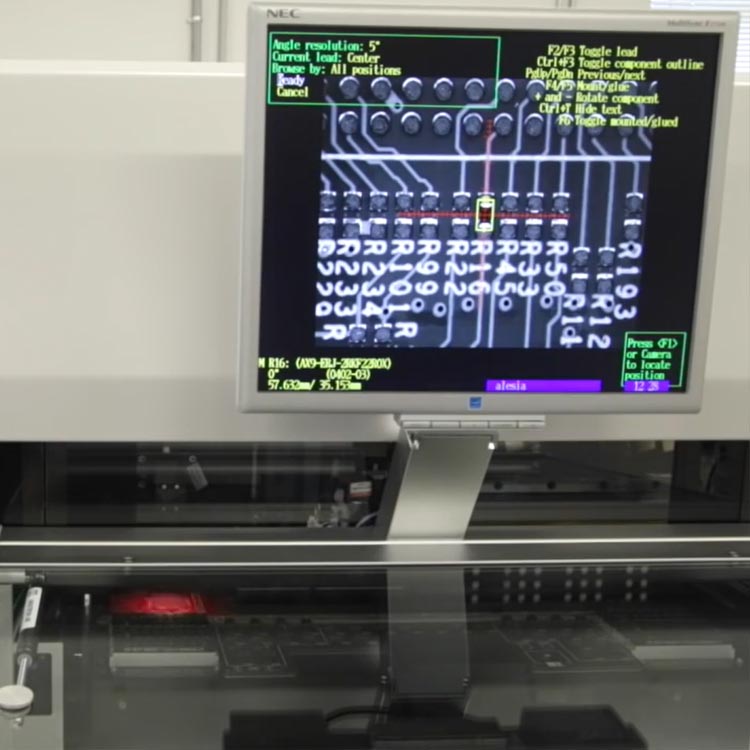 Electronic Manufacturing Services (EMS)
Frontgrade offers a full array electronic and RF design and assembly manufacturing services.
Automated Assembly
Advanced Automated Assembly Solutions
Frontgrade employs highly automated assembly capabilities.
Frontgrade reduces product and program costs with a high level of automation in the assembly processes.  Nearly 10,000 modules flow through Frontgrade factories each month.
Partnering with customers to leverage design for manufacturing engineering techniques, Frontgrade factories are capable of complex manufacturing of microwave and millimeter wave assemblies.
Employing automated pick and place, automated wire bonding and automated optical inspection, Frontgrade factories enable programs to reap benefits of volume production.
RF, FPGA & AESA advanced assembly
Production team – collaborative approach
Advanced Packaging
Advanced Microelectronics Packaging, Test, and Modeling
When the highest levels of reliability and performance are needed along with stringent requirements in the areas of size, form factor, power and thermal management, Frontgrade offers advanced microelectronics packaging, modeling and testing solutions for third-party ASICs and commercially-sourced die.
Building on a heritage of providing custom package solutions for the most demanding aerospace, defense and medical IC products developed at Frontgrade, we have a proven capability to identify, select and design a solution tailored to the unique requirements of your mission. Our flexible engagement model allows us to support a range of services from rapid prototyping of a small number of die for validation and characterization to full volume production in our DMEA accredited trusted facilities. Numerous package technology and process flow options are available, ranging from ceramic QML to organic commercial packages.
System in Package (SiP) solutions leveraging 2.1D technology to place multiple die in a single package are available to enable smaller footprints, increased performance and the integration of die fabricated in different process technologies or wafer types. A full suite of electrical, thermal and mechanical modeling tools are used throughout the development process to ensure compliance with critical design points and constraints.
 
Flexible Engagement Model
Frontgrade supports the full spectrum of design engagements ranging from full turnkey to build-to-print using your existing design.
Legacy of innovation in high reliability QML, organic flip chip, system-in-package (SiP) technology and form factor optimization while solving critical thermal dissipation and high speed signaling challenges.
Support for low volume prototyping and flight quantities to high volume manufacturing of >100,000 per month.
Image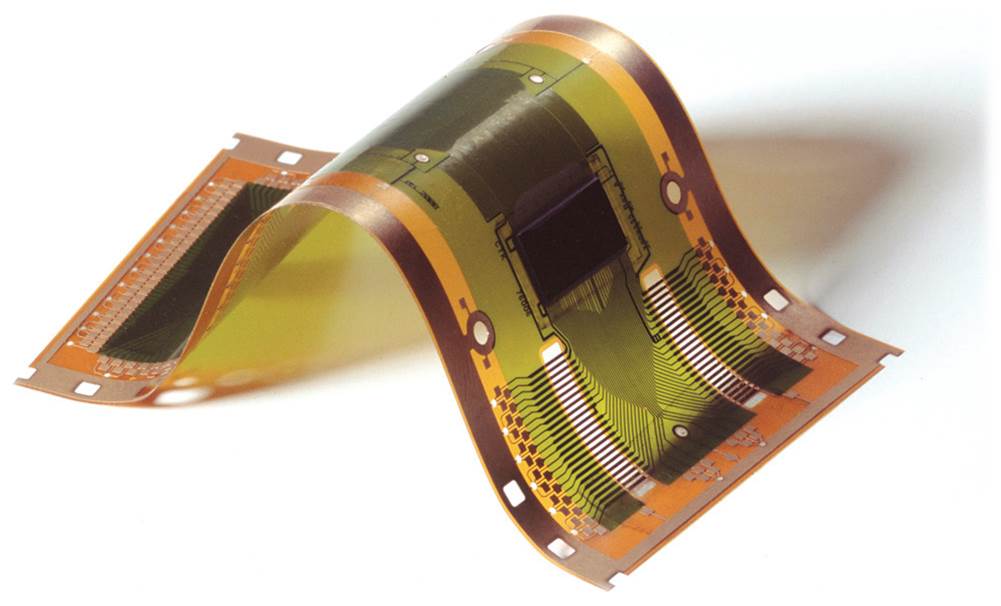 Commercial Packaging
Commercial flows in lead-free or SnPB solder bumps for flip chip on organic BGA and flip chip on flex.
Image
Advanced Packaging
Enabling greater density and higher performance through advanced, high reliability QML Class V, QML Class Y, emerging organic QML Class Y and hybrid solutions.
Image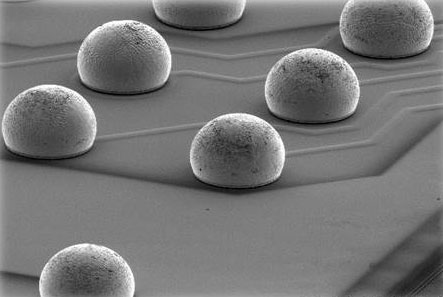 System-in-Package (SiP)
Multi-die and chiplet-based integrated solutions in 2.1D, 2.5D and flip chip onboard solutions.
Image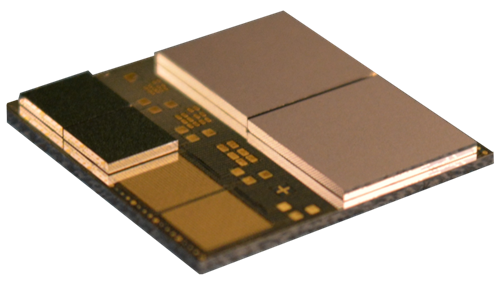 Package Modeling & Characterization
Reliability modeling maximizing reliability with deterministic failure rates simulation and verification of power/ signaling performance thermal modeling.
Build to Print/Spec
Build to Print / Build to Spec
Accredited by the United States Department of Defense as a Trusted Source and as a Category 1A supplier for assembly services, Frontgrade offers build-to-print and build-to-specification capabilities, including high-volume automated circuit card assembly.
For customers designing for military, space, aerospace and other harsh environments, Frontgrade also provides complete COTS and commercial up-screening for high reliability applications that require additional testing and burn-in as well as qualified assembly and test services meeting the requirements of MIL-PRF-38534 Class H and K.
From DC to 40 GHz, Frontgrade provides microelectronic packaging and test solutions for high speed digital, precision analog and RF/microwave devices. Frontgrade carries a range of off-the-shelf inventory and customized options including single board computers; multi-chip, power converter and telemetry modules as well as specialized RF and microwave filters. Our multi-chip module (MCM) packaging technology enables customers to optimize size, weight, power and cost (SWaP) by applying flip chip, chip and wire, chip-on-board, surface mount technology and planar magnetics. In many cases, more than one of these technologies can be combined in a single module.
Electronic Manufacturing Solutions
Electronic Manufacturing Solutions
Offering a full turnkey electronic manufacturing operation complete with testing and coating capabilities in the USA.
Frontgrade has a broad range of well-established Electronic Manufacturing Services (EMS) offerings that support standard product designs and custom microelectronic solutions. Our flexible engagement model, strong collaboration and communication processes allow our customers to outsource everything from circuit card design and assembly to complete turnkey solutions and testing with full ITAR compliance. All Frontgrade EMS sites are fully certified and qualified to assume the most demanding design challenges for customers serving military, aerospace, medical and industrial markets.
Frontgrade EMS solutions provide design, manufacturing, supply chain management and service support for the complete product life cycle to enable our customers to focus on product innovation and differentiation. Our services extend to materials procurement, prototype engineering and qualification, mission suitability analysis, environmental testing and failure analysis, radiation testing, device screening, custom and commercially available plastic packaging and rapid prototype IC assembly.
Frontgrade -  Colorado Springs, CO Facility
ISO9001:2015
AS9100:2009 Rev D value-added compliance
ANSI-J-STD-001 including DS/ES and NASA 8739
Eagle Registrations
ESD Certified to ANSI-ESD S20.20 for Assemblies and Integrated Circuits
Certification includes both ICs and Circuit Cards Assembly
Quality Management Manual 03302
MIL-PRF-38535 - Custom Microcircuit Certification
Qualified Manufacturer's List (QML) MIL-PRF-38535 approval Class Q, T, V and Y
Certification letter DSCC-VQ (VQC-11-023215), effective 23 May 2012
Quality Management Program Plan 03300
Class Q, T, V and Y certifications
Frontgrade's site in Colorado Springs is a Trusted Facility and has a Trusted Program in place.
Frontgrade - Happauge, NY Facility
ISO9001: 2015 and ISO9100: 2016
Frontgrade - Exeter, NH Facility
ISO9001: 2015 and AS9100: 2016
Nadcap Chemical Processing
FAA Antidrug and Alcohol Misuse Prevention Program Registration
IPC J-STD-001 IPC610 Certification
IPC J-STD-001 IPC620 Certification
American Welding Society (AWS) Brazing Procedure and Performance Qualification 
American Welding Society (AWS) Welding Certification
Frontgrade - Plainview, NY Facility
MIL PRF 38534 compliant (Class H & K)
ISO 9001 and AS9100 Certification
SOP-QA-1075 Supplier
Frontgrade's site in Plainview, NY is a Trusted Facility and has a Trusted Program in place
 
Support & Contact
Image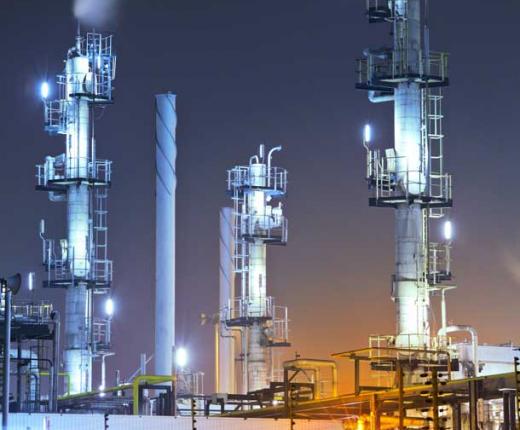 Do you need help with an existing product?
Our customer and technical support teams are happy to assist.
Are you ready to order?
Our team is happy to assist.
Questions?
Let us answer any questions you may have.