Overview
Image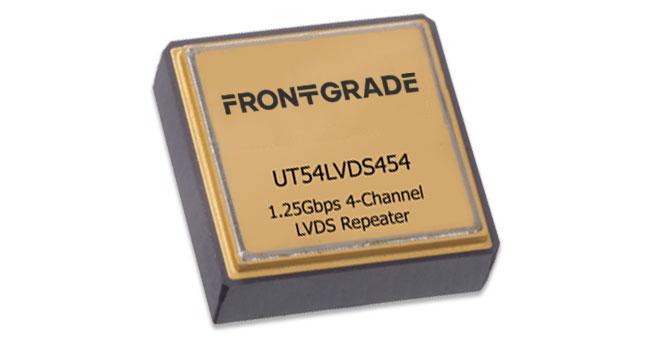 The UT54LVDS454 is a single high performance device in a small QML package that can be configured as a Dual LVDS transceiver, or Quad LVDS repeater.
The UT54LVDS454, 1.25Gbps LVDS Dual Transceiver/Quad Repeater is designed for high-speed, high reliability and harsh environment serial link applications. The UT54LVDS454 high-speeds LVDS Transceiver/Receiver is ideal for buffer protection of space FPGA's and processors as well as box-to-box communication within a satellite.
Image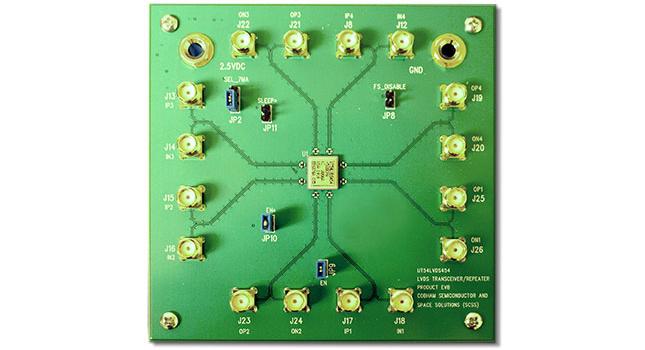 UT54LVDS454 1.25 Gbps LVDS Repeater Evaluation Board
Part Number: UT54LVDS454-EVB
Key Tech Specs
Features:
1.25Gbps LVDS Dual Transceiver/Quad Repeater
Single 2.5 V Power Supply
Data Rates up to 1.25Gbps per Channel
Protocol Independent
Cold Sparing on All-pins
Low Propagation Delay (Latency)
Low Channel-to-Channel Skew
Supports up to 1 meter of FR4 PCB or 10 meters of cable up to 1.25Gbps
Fail-safe Function for Loss of Signal Detection
Compatible with TIA/EIA-644A LVDS Standard
Applications:
High-Speed Serial Repeater and Distribution
Primary and Redundant Data Switching/Cross-Strapping
High-Speed Data Mux & Demux
L&S Band RF D2D/JESD204B Buffering and Muxing
SDR, UHF, SAR, Phase-Array Radar Data Buffering and Muxing
Space VPX (VITA78) Data Plane Switching and Cross-Strapping
Operational Environment:
Temperature Range: -55ºC to +105ºC
Total Ionizing Dose: <100 krad (Si)
SEL Immune: ≤100 MeV-cm2/mg
Physical:
71-pin CLGA, CBGA, CCGA
9 mm x 10 mm, 1.0 mm pitch
Power:
170mW (typical) 
Flight Grade:
QML-Q
(QML-V Pending)
Export Control Classification Number (ECCN):
9A515.e.1
SMD Number:
ADDITIONAL SPECIFICATIONS
Support
Do you need help with an existing product?
Our customer and technical support teams are happy to assist.