Overview
Image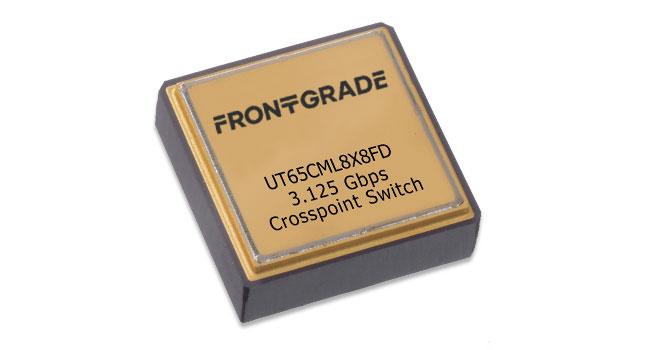 The UT65CML8X8FC, 3.125Gbps Crosspoint Switch, is a high-speed, protocol independent switch.
Ideal uses include:
High-speed serial repeater

Signal distribution 

Primary and redundant switching 

Port replications 

Space VPX data plane switching applications

Our UT65CML8X8FC Crosspoint Switch is compatible with the VITA 78 standard by virtue of its enhanced redundancy and fault tolerance, which are critical attributes for HiRel Space systems.
Image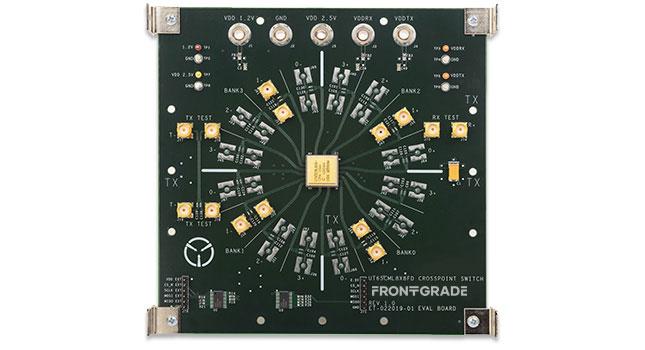 UT65CML8X8FD-EVB
For customer experience and ease of use, we offer an evaluation board, UT64CML8X8FD-EVB, that provides a comprehensive platform for evaluating the crosspoint switch.  To help facilitate the setup, a software graphical user interface is available.
Key Tech Specs
Features:

8 x 8, Full-Duplex, Crosspoint Switch Matrix

Data Rates up to 3.125Gbps per Channel

Protocol Independent

Low Propagation Delay (Latency)

Low Channel-to-Channel Skew

SPI Port Control Interface for Ease of Use

Diagnostic Serial Loopback Mode

Separate Power Domains per Bank

Power Down Feature for Unused Lanes

Loss of Signal (LOS) Detect

Adjustable 50 Ohm High-Speed Terminations

Applications:

High-Speed Serial Repeater and Distribution

Primary and Redundant Data Switching/Cross-Strapping

High-Speed Data Mux & Demux

L&S Band RF D2D/JESD204B Buffering and Muxing

SDR, UHF, SAR, Phase-Array Radar Data Buffering and Muxing

Space VPX (VITA78) Data Plane Switching and Cross-Strapping
Operational Environment:

Temperature Range: -55°C to +105°C

TID: <100 krad (Si)

SEL Immune: ≤100 MeV-cm2/mg

SEU Rate: <1 x E-10 errors/bit-day

Physical:
143-pin CLGA, CBGA, CCGA
Flight Grade:
QML-Q, QML-V
SMD Number:
ADDITIONAL SPECIFICATIONS
Downloads
ECAD Models
Use the link(s) below to view the ECAD Model for this product.
Support
Do you need help with an existing product?
Our customer and technical support teams are happy to assist.