Overview
Image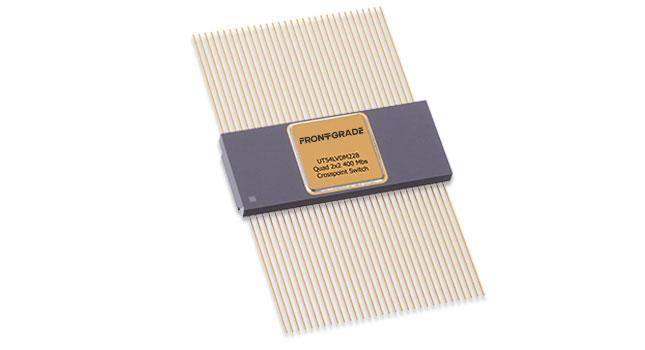 The UT54LVDM228 is a quad 2x2 cross point switch utilizing Low Voltage Differential Signaling (LVDS) technology for low power, high-speed operation. 
The non-blocking design allows connection of any input to any output or outputs on each switch.  LVDS I/O enable high-speed data transmission for point-to-point or multi-drop interconnects. 
The UT54LVDM228 was designed for high-speed differential cross point, 2:1 mux, 1:2 demux, repeater or 1:2 signal splitter.  The mux and demux functions are ideal for switching between primary and backup circuits in fault tolerant systems and the signal splitter and mux functions are useful for distribution of a bus across several rack-mounted backplanes.
Key Tech Specs
Features:

Quad 2x2 Crosspoint Switch

400.0 Mbps low jitter fully differential data path

200MHz clock channel

3.3 V power supply

10mA LVDS output drivers

Input receiver fail-safe

Cold sparing all pins

Configurable as quad 2:1 mux, 1:2 demux, repeater or1:2 signal splitter

Fast propagation delay of 3.5ns max

Receiver input threshold < + 100 mV

Compatible with ANSI/TIA/EIA 899 Standard

Applications:

LVDS Communication Systems

Microprocessor and FPGA LVDS driver protection
Operational Environment:

Temperature Range: -55°C to +125°C

Total Ionizing Dose: 1 Mrad (Si)

SEL Immune: ≤100 MeV-cm2/mg

Physical:

64-Lead Flatpack

25-mil Pitch

Power:
1.667W (Maximum) 
Flight Grade:
QML-Q, QML-V
Export Control Classification Number (ECCN):
9A515.e.2
SMD Number:
5962-01537
ADDITIONAL SPECIFICATIONS
Support
Do you need help with an existing product?
Our customer and technical support teams are happy to assist.