Overview
Image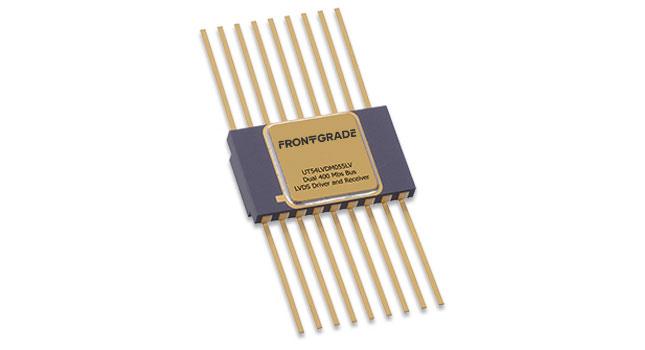 The UT54LVDM055LV Dual Driver/Dual Receiver is ideal for applications requiring ultra-low power dissipation and high data rates. 
Designed for point-to-point and multi-point data transmission over printed circuit board traces, backplanes or cables, the device supports up to 400.00Mbps data rates utilizing Low Voltage Differential Signaling (LVDS) technology.
Key Tech Specs
Features:
Two drivers and two receivers with individual enables
>400.0 Mbps (200 MHz) switching rates
+340mV differential signaling
3.3 V power supply
TTL compatible inputs
10mA LVDS output drivers
TTL compatible outputs
Cold spare all pins
Ultra low power CMOS technology
Applications:
LVDS Communication Systems
Microprocessor and FPGA LVDS driver protection
 
Operational Environment:
Temperature Range: 

-55

°C

to +125

°C
Total Ionizing Dose: 

300 krad (Si)

SEL Immune: 

≤100 MeV-cm

2

/mg

Physical:
18-Lead Flatpack
50-mil Pitch
Power:
1.25W (Maximum) 
Flight Grade:
QML-Q, QML-V
Export Control Classification Number (ECCN):
9A515.e.1
SMD Number:
ADDITIONAL SPECIFICATIONS
Support
Do you need help with an existing product?
Our customer and technical support teams are happy to assist.