Overview
CAES' UT64CAN3332, Controller Area Network (CAN) FD transceiver operates on a differential CAN bus provided by the FD physical layer.  The UT64CAN3332 is capable of baud rates between 10kbps to 8Mbps and support up to 120 nodes.  This device offers the ability to monitor bus traffic enabling the local controller to change its baud rate to match the operations of the bus and is well suited for avionics/aerospace sensor monitoring, system telemetry, command and control, utility plane communication, and smart sensor communication applications.  The UT64CAN333x series is compatible with CAES' UT32M0R500, 32-bit Arm® Microcontroller that integrates two independent CAN controllers for primary and redundant CAN topologies.
Image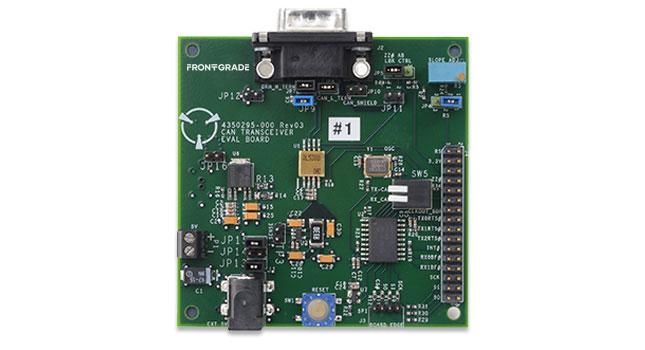 UT64CANEVB333x
The UT64CANEVB333x, Evaluation Development Board, provides a comprehensive and rapid prototyping platform for the UT64CAN333x CAN transceiver.
Key Tech Specs
Features:

Single +3.3 V supply voltage

+5 V tolerant digital I/O

10 kbps to 8 Mbps baud rates

Class 2 ESD for non-CAN bus pins

Class 3A ESD for CAN bus pins (CANL, CANH)

Bus-Pin fault protection:

±36 V terrestrial
±16 V in orbit

Common-mode range: -7 to +12 V

Over current protection

Low current standby mode: IDD ≤ 1500 µA

Cold spare of digital I/O

Loopback for auto-baud mode

Compatible with ISO 11898-2 and 11898-5 standards

Applications:

Avionic/Aerospace sensor monitoring

Avionic/Aerospace system telemetry

Avionic/Aerospace command and control

Utility Plane Communication

Smart Sensor Communication

ARINC825 applications

Time Triggered (TTP/C and TTP/A) applications
Operational Environment:

Temperature Range: -55°C to +125°C

Total Ionizing Dose: 100 krad (Si)

SEL Immune: ≤ 141 MeV-cm2/mg

Physical:

8-Lead Flatpack 

50-mil Pitch

Power:

1.67W (Maximum) 

Flight Grade:

QML-Q, QML-V

Export Control Classification Number (ECCN):

9A515.e.2

SMD Number:

5962-15232
ADDITIONAL SPECIFICATIONS
Downloads
ECAD Models
Use the link(s) below to view the ECAD Model for this product.
Support
Do you need help with an existing product?
Our customer and technical support teams are happy to assist.