Overview
Frontgrade Crosspoint Switch is a protocol independent, high-speed, multi-Gbps switch supporting the SpaceVPX/VITA 78 standard. 
Frontgrade Crosspoint Switch is ideal for use in a variety of applications including high-speed serial repeater, signal distribution, primary and redundant switching, port replications and SpaceVPX data plane switching.  Our crosspoint switch is fully compatible with the VITA 78 standard by virtue of its enhanced redundancy and fault tolerance, which are critical attributes for HiRel space systems.
Part Number
Channels
Date Rate
I/O Type
TID
krad(Si)
SEL LET
(MeV-cm2/mg)
Package
Flight Grade
SMD Part Number
UT65CML8X8FD
8x84x41x1
3.125Gbps/Channel
CML
100
≤100
143-Pin CLGA
143-Pin CBGA
143-Pin CCGA
QML-Q
QML-V
5962-17213
Support & Contact
Image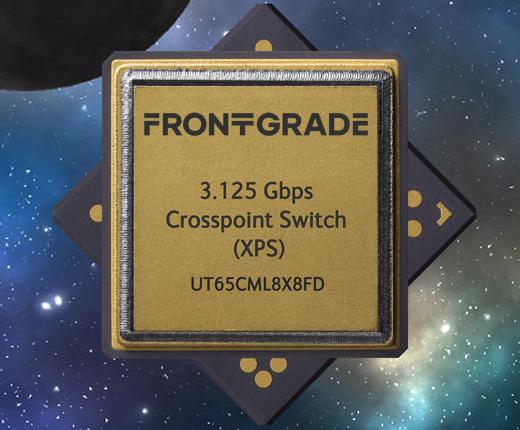 Do you need help with an existing product?
Our customer and technical support teams are happy to assist.
Are you ready to order?
Our team is happy to assist.
Questions?
Let us answer any questions you may have.