Overview
Image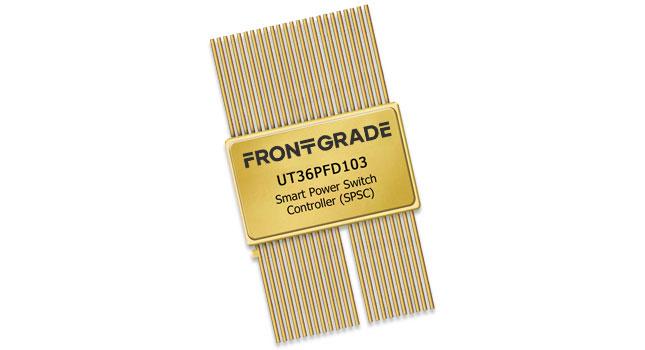 The UT36PFD103 Smart Power Switch Controller is the space industry's first highly integrated power switch controller providing extensive fault detection, isolation, and recovery capabilities combined with built-in digitized telemetry of input voltage, output voltage, and load current.
The UT36PFD103 is an intelligent PowerMOSFET controller with load-side inrush current limiting and eFUSE protection of current faults. Combining adjustable current and voltage monitoring capability with flexible fault detection, isolation and recovery, the SPSC integrates many of the critical functions required for power switching applications and often implemented with a number of discrete components.
Image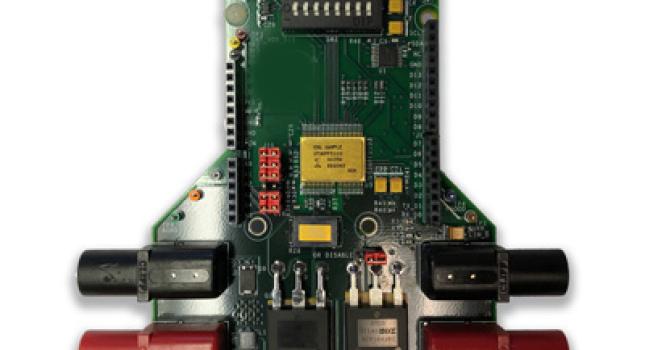 SPSC-EVB
The UT36PFD103, Smart Power Switch Controller Evaluation Board, SPSC-EVB, provides users with a convenient and flexible platform from which to evaluate the manifold features and functions available with the UT36PFD103.
The SPSC-EVB may be operated in single-supply stand-alone form (i.e. without host microcontroller) and in full-featured operation when installed as an ARDUINO shield onto a compatible host microcontroller evaluation board.
To facilitate rapid evaluation, Frontgrade provides a software API for the UT32M0R500 Arm M0+ evaluation board to service the Smart Power Switch Controller along with a run-time executable graphical user's interface (GUI).
Key Tech Specs
Features:
8 V – 36 V eFUSE Power Switch Controller
Single or Dual-Supply Operation 

High Voltage Power Supply +8 V to +36 V
Lower Voltage Digital and Analog +3.0 V to +3.6 V

Load Power Switching with Inrush Current Limiting
Forward Overcurrent and Short Circuit Protection

<500ns Typical Short Circuit Break Response

Optional OR-FET with Reverse Current Protection
Line and Load Side Voltage Monitor and Protection
Optional Digital Voltage and Current Telemetry

10-bit VIN/VOUT/IDS Telemetry (via PMBusTM)

Latching/Retriggerable/Pulsing Power FET Control
Applications:
Power Distribution with Short Circuit Protection
SpaceVPX PowerUM Power Switching
Launch-Vehicle Long Power Harness Splicing
Subsystem Electronics Power Switching
Uninterruptable Power Supplies 
Thruster and Waveguide Actuation Controller
Pyro ARM-FIRE Controller
Operational Environment:
Temperature Range: -55°C to +105°C
Total Ionizing Dose: <300 krad (Si)
SEL Immune: ≤100 MeV-cm2/mg
SEU Rate: <1 x E-10 errors/bit-day
SET Onset: >37 Mev-cm2/mg
Physical:
47-Lead Dual Flat Pack
16.1 mm x 10.75 mm, 0.635 mm pitch
Power:
70 mW with Dual Supply at 36V AVDD & 3.6V VDD
Flight Grade:
QML-Q, QML-V
Export Control Classification Number (ECCN):
9A515.e.1
SMD Number:
5962-20206
Evaluation Kit:
SPSC-EVB Evaluation Board
ARDUINO Male-Male Jumper Wire
SPSC-EVB GUI
SPSC-EVB GUI
SPSC-EVB Evaluation Kit User Guide
ADDITIONAL SPECIFICATIONS
Downloads
ECAD Models
Use the link(s) below to view the ECAD Model for this product.
Support
Do you need help with an existing product?
Our customer and technical support teams are happy to assist.